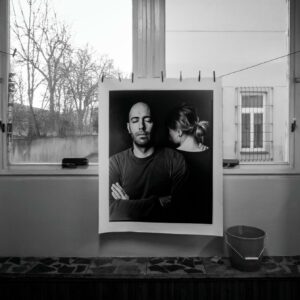 Ghaleb Cabbabé was born in Beirut in 1978. An architect by training, he has carried out several missions for the International Committee of the Red Cross in Afghanistan, Sudan, Congo and Sri Lanka. He is currently based in Bangkok. In 2012, he studied photography at the Academy of Performing Arts (FAMU) in Prague.
He won the Byblos Bank Award for Photography in 2013 at the Beirut Art Fair. His work, has been shortlisted at the Athens Photography Festival in 2016, 2018 and 2020, and ranked as one of the best projects in the Magnum Photography Awards and Lens Culture. His photographs have been published in The Photographic Journal and Vice Arabia and selected by the online platform VSCO. Ghaleb Cabbabé has participated in group and solo exhibitions in Beirut, Prague, Aix-en-Provence and Paris.
Ghaleb Cabbabé's photographic practice is at the crossroads of several approaches. He strives to demonstrate a personal style through singular formal choices, but also through narrative choices that give him a specific style, including in his documentary approach.